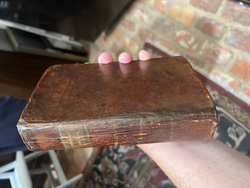 Our Mission
To answer the question: How many early copies of the Book of Mormon exist? What are the background stories of surviving copes?
This project is dedicated to help those who would not have a chance to see early copies of the Book of Mormon up close.
There is value to university archives when they know the treasures they have stewardship over. Church Archives can assist in strengthening the testimonies of its membership by making more aware of the copies in church possession which also includes potential textual analysis. Private owners can take pride knowing they have participated in this project while keeping private ownership information confidential. All of this adds to a benefit as we come close to the 200th anniversary of the Book of Mormon.
Our Timeline
January 2023

Organize census and start contacting various organizations and individuals for book submissions.

September 2023

(200th anniversary of the Angelic Visit to Joseph Smith)

Publicly announce the Census Project and make the website available. Continue to receive book submissions.

September 2024 through September 2028

Continue to publish and add to the list through submissions and research.

March 2030

(200th anniversary of the printed Book of Mormon)

Continue to update the website with any remaining submissions